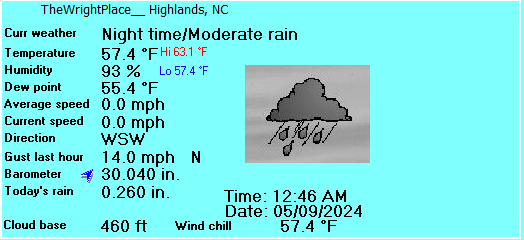 TheWrightPlace
LAST READING AT TIME: 10:25 PM DATE: 17 October 2018, time of next update: 10:30 pm
Current Weather
Night time/Dry
Current Temperature
46.5°F (8.1°C), Apparent temp 44.9°F
Maximum Temperature (since midnight)
63.2°F at: 2:15 PM
Minimum Temperature (since midnight)
46.5°F at: 10:20 PM
Average windspeed (ten minute)
0.5 mph
Wind Direction (ten minute)
NNW (342°)
Windchill Temperature
46.5°F
Maximum Gust (last hour)
7 mph at: 9:51 PM
Maximum Gust (since midnight)
14 mph at: 6:08 AM
Maximum 1 minute average (since midnight)
5.0 mph at: 6:08 AM
Rainfall (last hour)
0.000 in. (0.0 mm)
Rainfall (since midnight)
0.060 in. (1.5 mm) at 5:19 AM
Rainfall This month
12.56 in. (319.1 mm)
Rainfall To date this year
101.880 in. (2587.7 mm)
Maximum rain per minute (last hour)
0.000 in/min
Maximum rain per hour (last 6 hours)
0.000 in/hour
Yesterdays rainfall
0.750 in
DewPoint
38.3°F (Wet Bulb :43.0°F )
Humidity
73 %, Humidex 44.4°F
Barometer corrected to msl
30.461 in. (1031.5 hPa)
Pressure change
+0.02 in. (last hour)
Trend (last hour)
RISING SLOWLY
Pressure change (last 12 hours)
+0.07 in
Pressure change (last 6 hours)
+0.08 in
This page is updated from recent data collected by a DAVIS VANTAGE PRO weather station Use the Reload or Refresh facility on your browser to retrieve the latest data.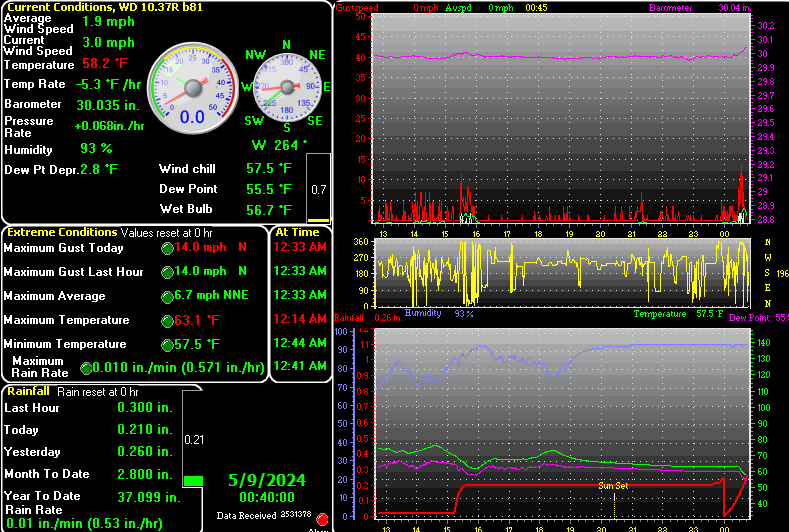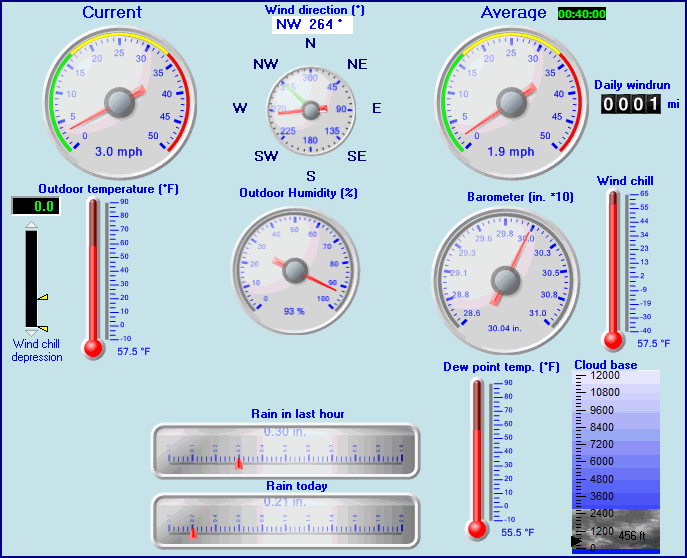 ---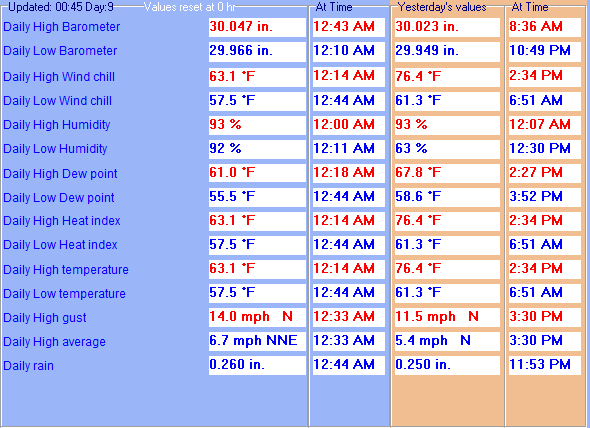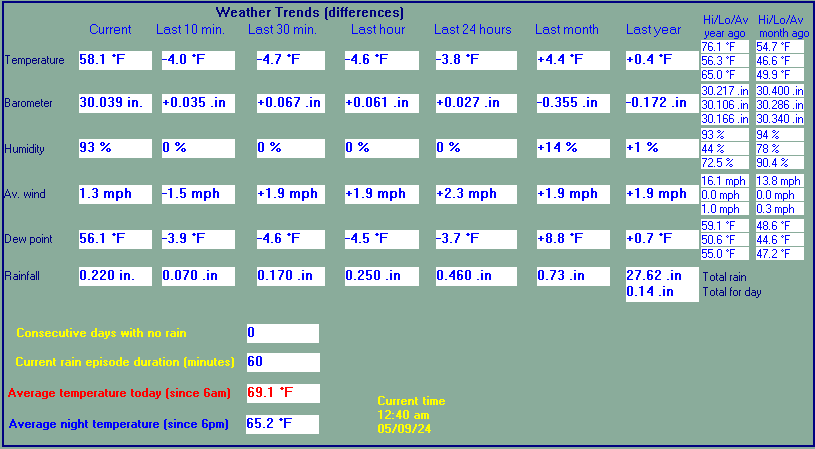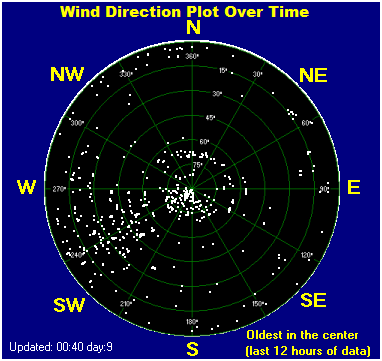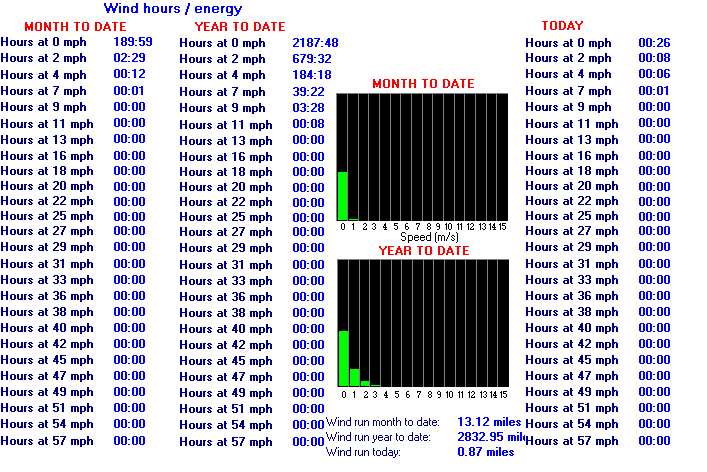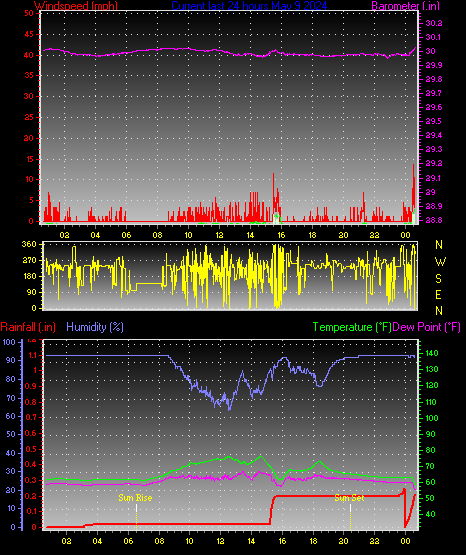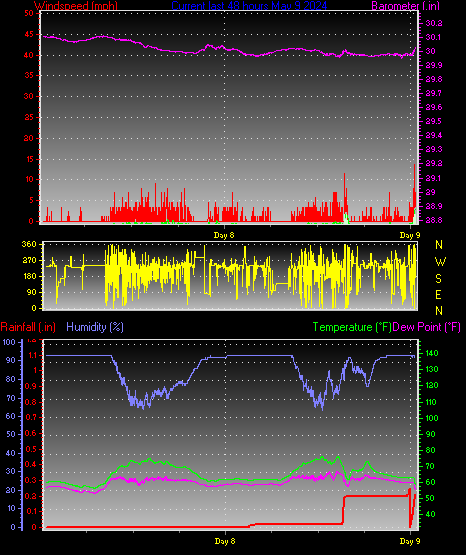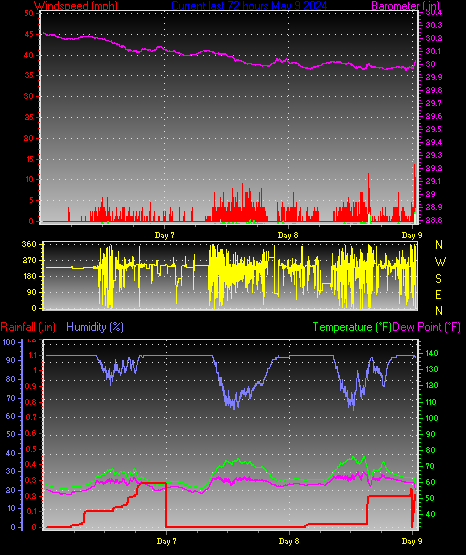 Click here to listen to the current weather conditions
Animated web cam image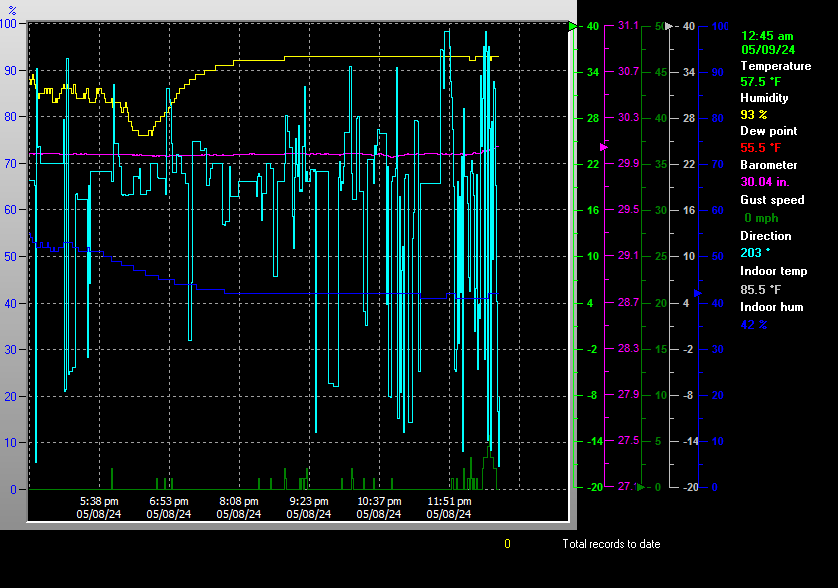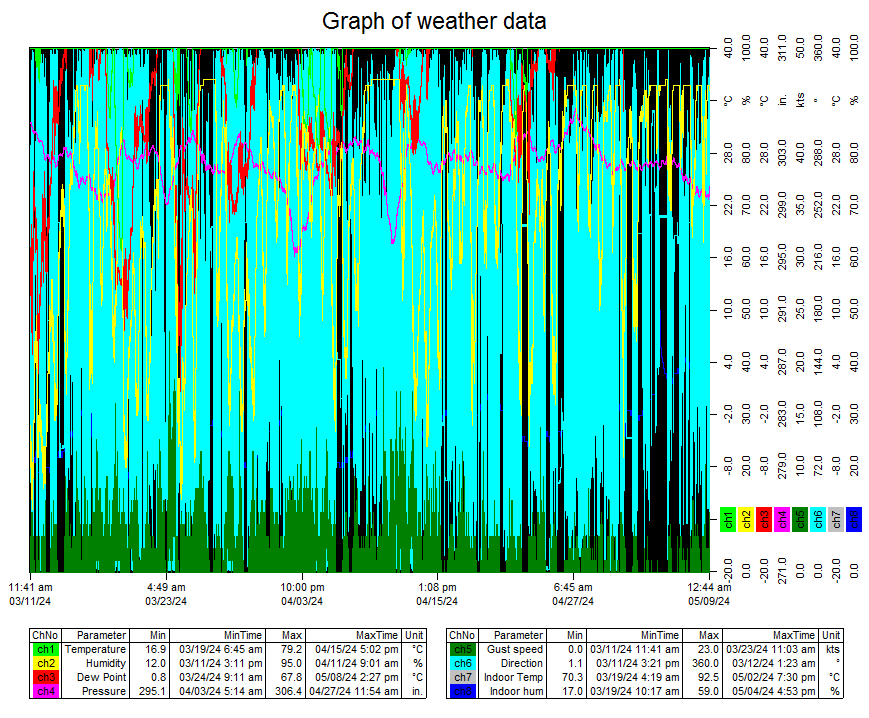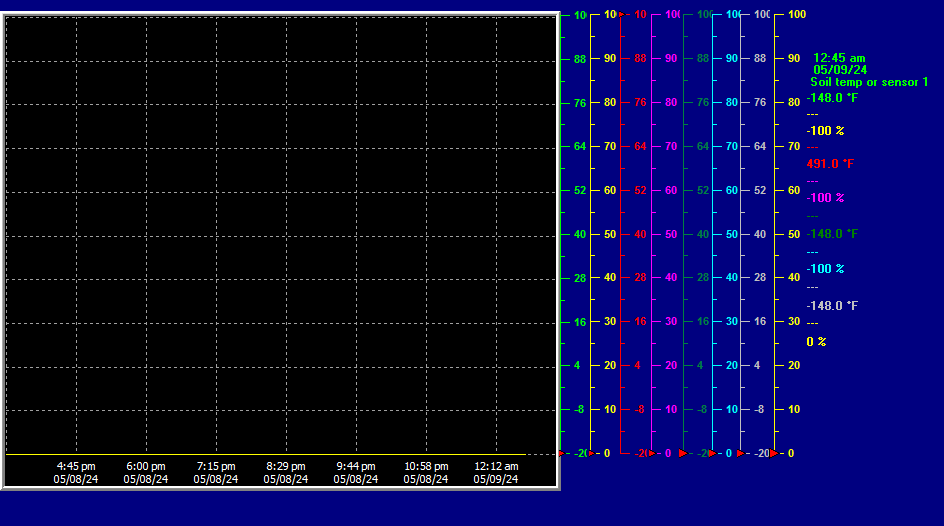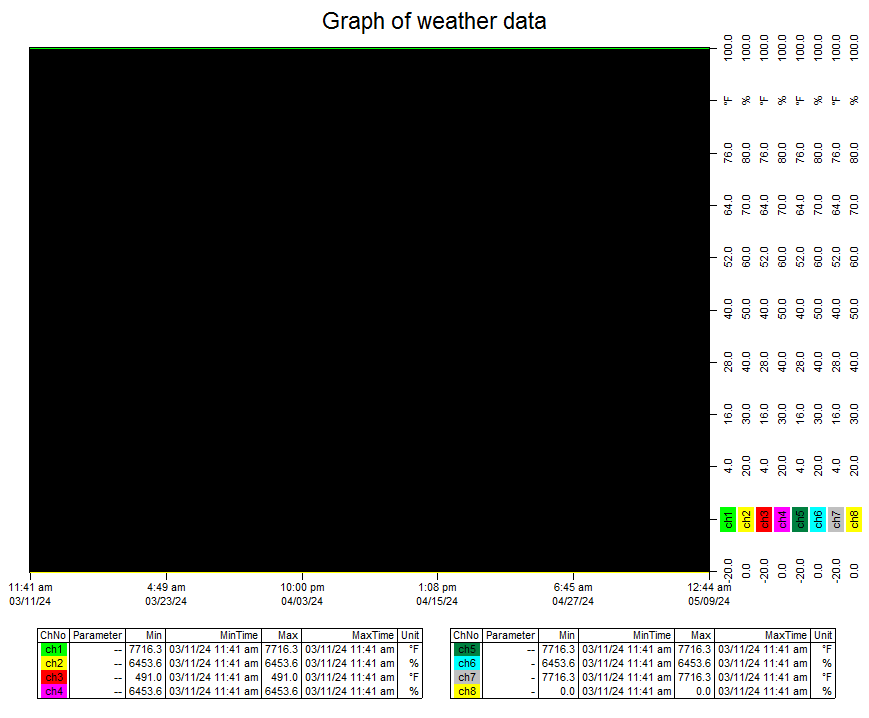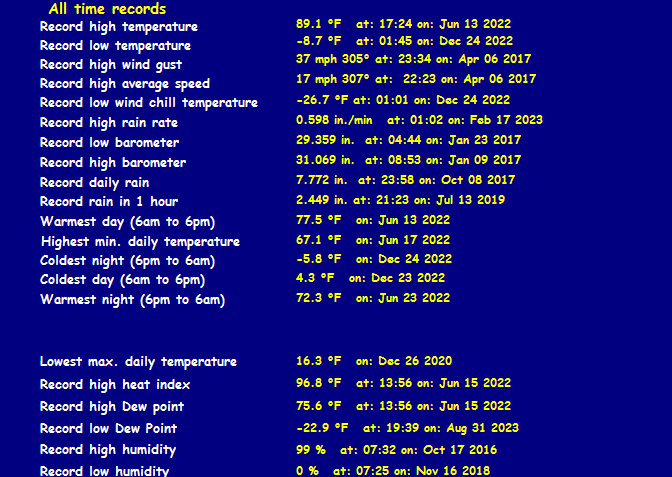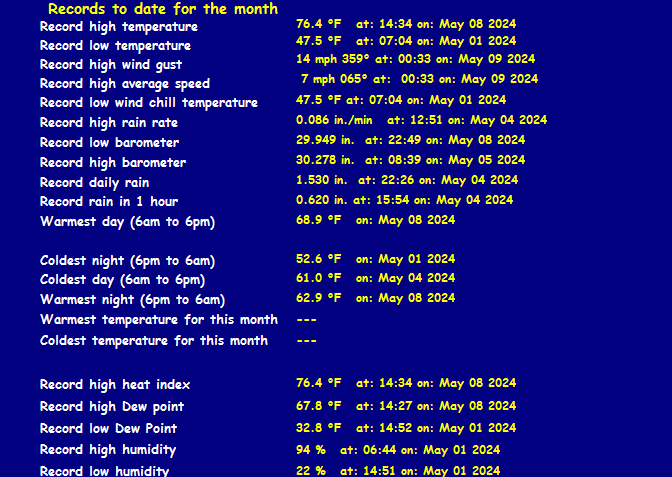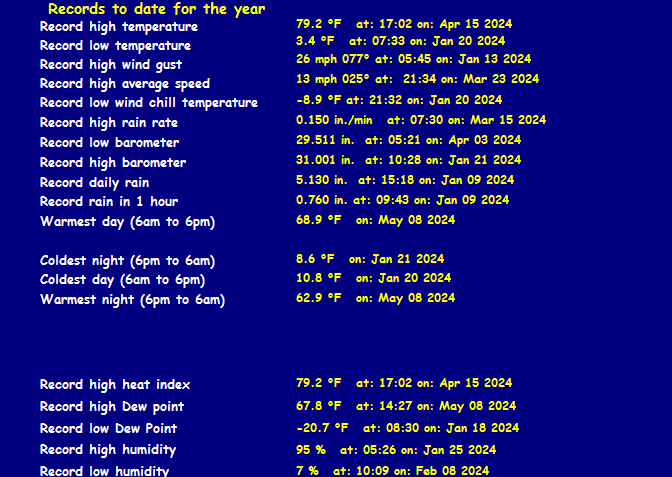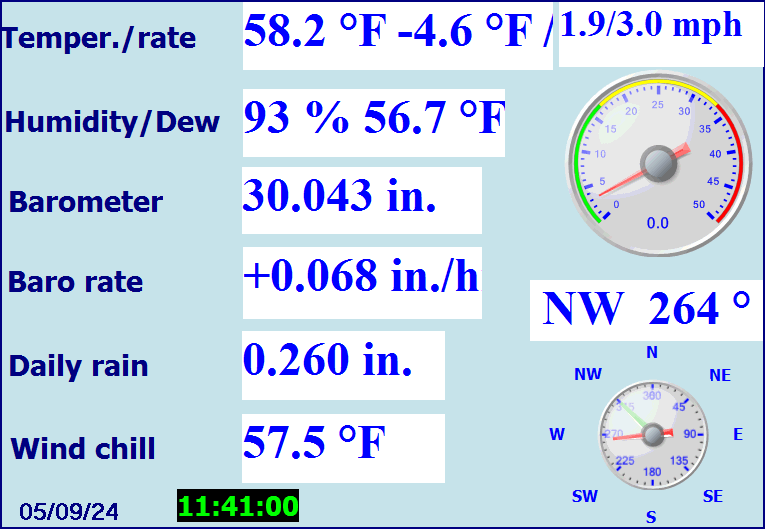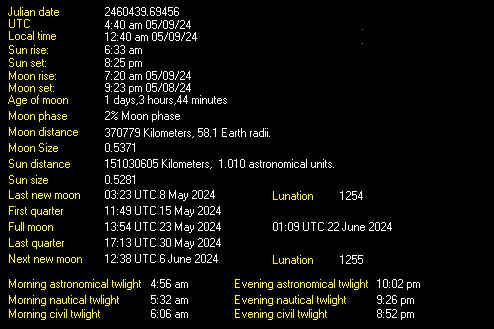 Weather report/Warning/Metars

Expires:201810172000;;313651
FPUS52 KGSP 170911 AAA
ZFPGSP

Zone Forecast Product
National Weather Service Greenville-Spartanburg SC
509 AM EDT Wed Oct 17 2018


NCZ062-172000-
Macon-
Including the cities of Franklin, Rainbow Springs, Kyle, 
Nantahala Lake, and Highlands
509 AM EDT Wed Oct 17 2018

.TODAY...Patchy fog early. Mostly cloudy with a slight chance of
showers early, then sunny this afternoon. Highs in the mid 60s.
Northwest winds 5 to 10 mph. Chance of rain 20 percent. 
.TONIGHT...Mostly clear. Lows in the lower 40s. North winds 5 to
10 mph. 
.THURSDAY...Sunny. Highs in the lower 60s. Northeast winds around
5 mph, becoming west in the afternoon. 
.THURSDAY NIGHT...Mostly clear. Lows in the lower 40s. Southeast
winds around 5 mph. 
.FRIDAY...Mostly sunny in the morning, then becoming partly sunny.
Highs in the lower 60s. South winds 5 to 10 mph. 
.FRIDAY NIGHT...Mostly cloudy. A chance of showers in the evening,
then showers likely after midnight. Lows in the lower 50s. Chance of
rain 70 percent. 
.SATURDAY...Cloudy with showers likely in the morning, then partly
sunny with a chance of showers in the afternoon. Highs around 60.
Chance of rain 70 percent. 
.SATURDAY NIGHT...Partly cloudy. Patchy frost after midnight. Lows
in the upper 30s. 
.SUNDAY...Patchy frost in the morning. Sunny. Highs in the mid 50s. 
.SUNDAY NIGHT...Clear. Lows in the mid 30s. 
.MONDAY...Areas of frost in the morning. Sunny. Highs in the upper
50s. 
.MONDAY NIGHT...Partly cloudy. Lows around 40. 
.TUESDAY...Mostly sunny. Highs in the lower 60s. 

$$